Miss Rodeo North Dakota 2023 Lindsey Miller [Photo: submitted]
Boy does time fly — four months ago I packed up my best boots, hats, and clothes to head to Medora, North Dakota for the Miss Rodeo North Dakota Pageant. Flash forward to now, and I have just two short months until my reign as Miss Rodeo North Dakota 2023 begins.
My year as Miss Rodeo North Dakota may not have started yet, however I have already felt an immense amount of support from my home state. From well wishes and congratulations to multiple offers of help, this cowgirl has found her heart full. Full of gratitude from where she is from and the support system that backs her, but also full of pride to represent a state that is home to some of the nicest and kindest people this side of the Mississippi. 'North Dakota Nice' may be an easy flowing slogan, but it couldn't ring more true. How many people can say they have an entire state backing them as they chase their dream?
Speaking of dreams, it's crazy to think this journey all started with a shy and quiet 15-year-old girl — a girl, who never in a million years would have imagined herself as a rodeo queen, or as the next Miss Rodeo North Dakota for that matter.
From the moment I won my first rodeo queen title, I can recall looking at my dad and saying, "I wanted to one day be Miss Rodeo North Dakota." Now, I don't necessarily remember what my dad said after that moment, but I feel like he just nodded and tried to mentally prepare himself for that day and the amount of hairspray that would come with it.
All jokes aside, earning my first rodeo queen title was life changing and eye opening. It gave me an opportunity to realize my potential and passion, all of which was nonexistent in my life prior to that. As I continued forward with my rodeo queen journey, I made a pact to always remember my roots and to remain humble, but most of all, to help others along the way. As at one point in time I was the girl who wore lime green jeans and had stick straight hair; having no idea that despite the jeans going out of style, they'd always remain a staple in my life. I think it falls into the saying, "You live, and you learn."
I did in fact learn from that and made the decision to use it as a piece of my platform. The Girl in Lime Green Jeans is not only the name of my published book, but a part of my life and journey that will always serve as a reminder. The girl in lime green jeans found her light through becoming a rodeo queen, and as I move into my year as Miss Rodeo North Dakota I wish to promote my platform, 'Find your light,' in which I encourage others to seek their passion or inner confidence, just as I found mine.
I have filled the time since my crowning in June with tons of planning and preparation for the upcoming year. From contacting potential sponsors and clothing designers, setting goals for my year, and booking my venue/date for my coronation fundraiser, I have been one busy gal.
At this time, I would love to invite YOU to the biggest fundraiser of my reign as Miss Rodeo North Dakota. It will be held January 21, 2023, in Burlington, North Dakota at The Barn at 52 Pines. It is sure to be an evening full of food, friends, and fellowship! Find my group on Facebook Miss Rodeo ND 2023 Coronation to stay up to date on all the event details! I can guarantee this is an event you won't want to miss!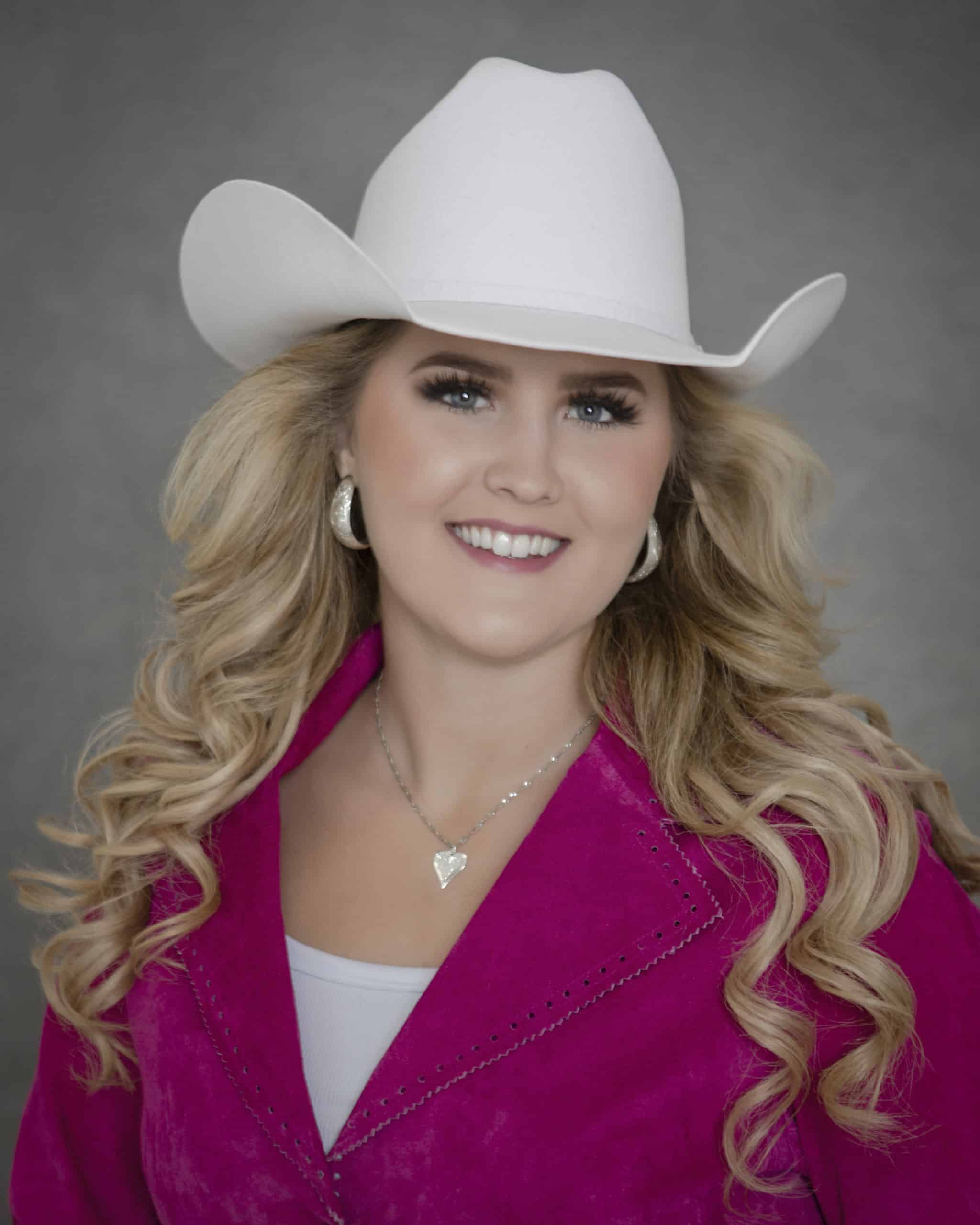 Lindsey Miller, 22, resides in Flaxton, North Dakota on the family farm with her parents, Steve and Denise, and three younger siblings.
Lindsey graduated from Dickinson State University with an Associate degree in Agriculture Business. While at DSU, Lindsey was highly active in the DSU Agriculture Club, in which she worked alongside her peers to host events for 4-H and FFA youth, as well as educate those without an agriculture background.
In her free time, Lindsey participates in cowboy mounted shooting, barrel racing, announcing at local youth rodeos and horse shows, sewing, or searching for unique, vintage western finds at thrift stores.
As a rodeo queen, Lindsey strives to use her influence to encourage others to 'find their light.' With the help of her published book, The Girl in Lime Green Jeans, Miller aims to share her personal story to reach those outside of our everyday communities in hopes of enticing them to learn about and become a part of our great western heritage.